OFF-SEASON ONLY
Short-Notice discount: 5% for 14 days or less to arrival date
LESS THAN 14 DAYS IN ADVANCE CONSIDERED - W/OUT LINENS PROVIDED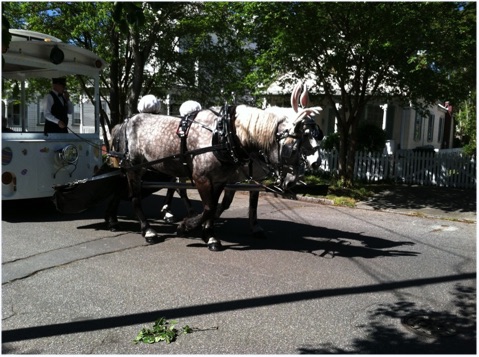 (NO DISCOUNTS OVER HOLIDAYS)
"Easter-horses" pulling the trolley!
The trolley starts a few blocks away on Market Street and goes by Li'l Blu many times a day!

Inquiries during Low Season for High Season:
Less than a 7 night inquiry will not be considered until 120 days from requested arrival date and less than 4 nights would not take priority until 90 days; 3 night rate is always minimum
Family, friends and previous guests: Please contact us - 434.535.2540 - for Special Rate!
Lastly:
Until confirmed, with 100% payment and signed forms, rates are subject to change without notice.